The Spencer Rigging Legacy

In the course of 65 years, Spencer Rigging has seen it all. Rich in history but hailed for its innovative and 'can-do' approach to projects, the company has been commissioned to produce rigs for elite racers, Arctic explorers and even the occasional 'pirate'. Attractions baring their creations, such as Lords Cricket Ground, Legoland and the Eden Project, are visited by millions each year. There have been appearances on the silver screen in films and hand-carved tillers held by royalty, to mention just some of the variety of jobs completed over the years.
The company's late founder, Harry Spencer, holds a legendary status for many in both the local and international sailing communities, and rightly so. "The more challenging the problem, the more determined he would be to overcome it," his obituary states. "Spencer Rigging is simply an extension of Harry's personality, a mere blend of artistic sensibility and brute force, with his unerring sense of the right way to do a thing, and his uncanny skill in managing any impossible job the world brings."
Operating from the unmissable Empire Buildings on St Mary's Road, Spencer Rigging is part of the historical yachting patchwork of Cowes, used daily by visiting sailors and commissioned internationally to bring their expertise, experience, and problem-solving approach to projects large and small.
Early Beginnings
Harry Spencer was born in Gurnard, a stone's throw from Cowes, in 1925. And although his career took him all over the world, he always referred to 'The Island' as home until his passing in 2009. When Harry left school at 14, he began a colourful career as an apprentice at J.S. Whites, a shipbuilding tour de force with sites on both sides of the River Medina. He would go on to be a chameleon of the industry, with stints in all areas of the marine trade, from pattern maker to yacht hand, yard foreman to RNLI delivery skipper, and shipwright to sail maker.
During the bombing of Cowes on the night of 4th/5th May 1942, he played his part during the bombardment by standing on a corrugated roof at Thetis Wharf (which he later owned) wearing a tin helmet, putting out fires with a garden hose. After the raid, Harry collected unexploded incendiary bombs in his rowing boat, which he described as being painted green and looking like leeks sticking out of the mud. In peaceful times a decade later, he would have a more leisurely commute in his rowing boat, venturing across The Solent and back each day to work in a Hamble sail loft.
With the closure of the shipbuilding sections of J.S. White's, and most boat manufacturing moving to large facilities in Europe, there was a wariness of the future of Cowes, and its place in the future of marine manufacturing. Undeterred, Harry Spencer realised high-class stainless steel rigging was required for the new aluminium masts being produced – at the time a cutting-edge solution using the most modern of techniques. Soon his services and expertise were so in demand that within a year of starting what was to become Spencer Rigging, he had five men working for him including Ben Bradley, who would work with Harry for over 40 years. "I joined Harry, who was Skipper of a 12 metre called 'Norsaga' which was a trial for an America's Cup Challenge mounted by the P&O Shipping Company," Ben explained in an interview about his career with Memories of the Sea. "By chance, an aluminium mast left over after P&O pulled the plug on the project was sold to the Pirate Radio Ship 'Caroline' and so started further radio ship contracts including Radio Yorkshire and Radio Scotland. At the same time, yacht racing designers were specifying aluminium masts in place of traditional wooden masts and yachts were made from fibreglass, and in production numbers." Business for Spencer Rigging boomed.
Home to legends
Home to Spencer Rigging since the 1960s, Empire Buildings is a striking feature on St Mary's Road, and originally opened in 1910 as the Empire Electric Theatre. It was a small theatre run as a Music Hall and Variety Theatre, and right from its opening, licenced for dancing, plays, and music, it also showed early films along with the variety acts on its stage. The theatre was redecorated and reseated in 1913 and again in 1921, but the house lights went out for the last time shortly after.
During the war, Empire Buildings' large footprint in the centre of town provided a vitally protected staging area and the building was used for bus storage and as an auxiliary fire station.
After Harry Spencer acquired the building, it was fitted out to provide the practical space demanded by the vast array of projects worked on by Spencer Rigging. With design and functionality at the heart of the business, the same attention was turned to the loft, providing a working area for the hands and space for thousands of metres of standing and running rigging. It was soon the hub of the business, and with each Cowes-hosted regatta, the yachting elite were welcomed through the enormous blue barn doors to discuss their requirements, as Harry and his team worked away with frenzied precision.
As Spencer Rigging expanded, it coincided with more international racing events, such as the Admiral's Cup, which, by the 1970s, had up to 19 nations taking part, each team with three boats. The loft played host to several infamous Auscrew parties with kegs and coolers placed amongst the rope racks and ensuing nights of revelry are 'somewhat remembered but never truly forgotten' by those who were there!
Businesswise, Spencer's continued rigging some of the world's most famous yachts and found new markets in supplying marine technology such as high tensile cables and rod rigging to tented structures, roof tie bars and glass wall projects, evolving with client's requests and driven by Harry and Ben's innovative problem-solving attitude.
The tradition continues
Neil Brinsdon, Spencer Rigging's current Managing Director, first joined the team in the Empire Buildings in 1991 shortly after leaving school. He would go on to spend almost 18 years travelling the world and working on a myriad of projects from Cowes to Korea before joining Advanced Rigging & Hydraulics, part of the Ancasta Group. When the opportunity arose to add Spencer Rigging to Ancasta's portfolio, it was somewhat of a homecoming for Neil, and an opportunity to come full circle to continue the traditions he first learnt in the industry.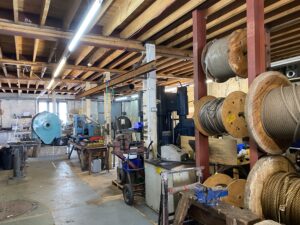 Today, the loft is home to unrivalled manufacturing and lifting facilities, producing rigging for all sectors, including wire swaging (1.5mm to 32mm), talurit swaging (1mm to 58mm), and rod rigging (-4 to –540). Its in-house production of lifting equipment includes webbing (CE Marked), chain, and wire slings, with a multitude of applications in the commercial sector. Clients still include classic yachts returning to Spencer's for traditional re-rigs and bespoke projects for race yachts. In any sales particulars, a reference to Spencer Rigging is seen as a hallmark of an owner's thoughtful attention to maintenance and integrity.
Marking its 65th year of operation in 2023, Spencer Rigging has moved with the times and the team eagerly awaits more diverse projects to apply their expertise in the years to come.