Spencer Rigging supply masts, booms, spars, rigging and fittings for vessels from small dayboats to 60 foot yachts.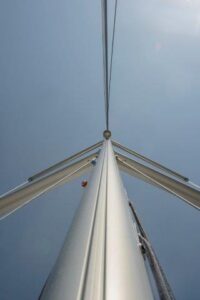 We can also supply custom made spars for professional and home boatbuilders. Our ability to provide a full service for measurement, supply, installation and set-up for yacht masts reduces your project management time and this, together with our experience, should help in highlighting any problem areas before they become apparent in your build or refit.
We have an extensive range of mast sections and spare parts to suit thousands of existing yachts and other vessels.
To find out more or to speak to our sales team please Contact Us.