Lulworth
The Spars – A Tall Order: Lulworth's Rig
From the moment Lulworth arrived at the Classic Yacht Darsena yard, the restorers knew they would face a major challenge in the future. While the hull was being rebuilt, the interior pieced together and the deck laid, the issue of the spars and sails exercised many a mind. As a pedigree racing vessel, Lulworth required a very serious rig. Yet no one alive today has the experience of sailing the world's largest gaff rigged cutter.
Mast and spars 1926 style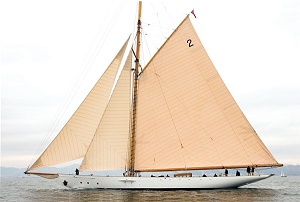 Most of Lulworth's spars, rigging and sails were damaged during the war, and no longer needed once she 'retired' as a house boat in 1947. After her recovery from the mud in 1990, Harry Spencer teamed up with Dutch naval architect Gerry Dijkstra to redesign the rig according to the 1926 plan, with various modifications, this was the blueprint for the new Lulworth.
While Lulworth was being transported to Italy, Spencer Rigging started work on the new mast and rigging. After the first restoration attempt was cancelled, the new British Columbian Spruce spar was left as a sitting tenant in the Spencer facility. For some time it became a landmark in Cowes, standing outside and becoming well seasoned!
In 2002 the vast pieces of wood were finally united with Lulworth after a long journey on a trailer across Europe. The mast is among the finest ever built and the last constructed by the 'old school' of shipwrights at Spencers.
Staggering statistics
A mast alone doesn't sail a yacht, so specialists were invited to tender their advice on how to rig Lulworth. The sizes involved were daunting. Lulworth's two-section mast in Douglas Spruce measured a mind-boggling 52m, the equivalent of a 17-story building. Her 27m boom hung three metres over the counter: The boom arrives on the quay long before the boat comes to a stop… Make way for Lulworth! and then there is the gaff of 16m and bowsprit of 9.5m to consider.
The standing rig and blocks were also made by Spencer Rigging, and Harry Spencer added back many of the original fittings (including even the gaff saddle) that he had dug out of the mud back in 1990. The 20m Sitka spruce spinnaker pole was hand-made in Viareggio by Richard Blake.
Traditional values
Mast fittings today are normally made of aluminium bronze or stainless steel. For Lulworth, the fittings were drawn from old photographs and made using traditional methods and galvanised steel, as was done in the 20s and 30s.
The mast sections are connected in a cup. This is a fragile yet super strong solution: The compression of the standing rig keeps it in place, while two sets of runners keep the mast upright during sailing. Other than the use of stainless steel for the head stays, the boat has been rigged as before. The shrouds are galvanised wire, half-spliced on the low ends in the traditional way.