Spencer Rigging provide rigging inspections to ensure safety, longevity and effectiveness of your rigging and to satisfy insurance requirements. Our expert team will complete a thorough and impartial inspection of your mast & rigging. Available for boats of any size or age, get in touch!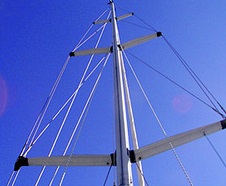 We inspect all running and standing rigging including all termination points and associated hardware such as blocks, spreaders, furlers and headsail foils.
Following the inspection, we will provide a detailed report of our findings, including recommendations for any additional parts and work required. The rig inspection report will provide you with annual rig records for maintenance, and information to reference in the future should you need to.
Spencer Rigging also undertake repairs and modifications of masts and spars click HERE for more information.
To find out more or to book your inspection Contact Us.